We noticed that Nengi is always seen around Prince even to the extent that prince use her to showcase his favorite s*x position and they are now always seen around each other.
Yesterday, Nengi and prince had a conversation about their relationship where prince asked Nengi why she plays so hard to get
And she confessed to him saying that she loves guys that forms but doesn't like guys that move around with different girls,she concluded saying prince is a lover boy and that is why she decided to stay on her own.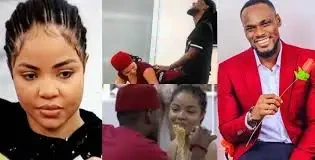 She said: "Am craving you but you are everywhere I like guys that form today we played a game and I was your second choice".
This was after they had a mini party at the garden where Nengi took 3 bottles of bear and was drunk.
Prince replied her saying:You wanted me to pick you first? Weren't you the one who said we're just friends? So that bothered you. "
At this time we noticed they were both drunk but it was clear that Nengi likes prince and didn't know how to say it but the alcohol she took helped her to do so
Please don't forget to follow and like us
Thanks